Caribbean
---
The islands in the Caribbean will be utterly devastated during the coming shift, hit from several sides. When the Americas move into the Pacific, shortening the distance around the Pacific Rim and widening the Atlantic, the giant continents of North and South America will not simply drift evenhandedly westward. Moving plates move in the direction of least resistance, which in this case is toward the middle of the Pacific hole. Central America loses in this crunch, as do the smaller plates supporting the Caribbean islands. Any island surviving this crush, where smaller plates will subduct under larger giants, will have to deal with tidal waves washing over them and exploding volcanoes. Going to sea in boats will scarcely be an answer, as the turmoil the water will be undergoing will create vortexes that will capsize large and small boats, and even dash well built submarines in deep water. Surviving in the Caribbean, during this violent shift, will be the exception, and will require luck, not planning.
ZetaTalk ™
---
That portion of the S American Plate lying to the east of the Caribbean Plate will participate in the roll expected during the 7 of 10 scenarios. The Caribbean islands finding themselves along the eastern curve of the Caribbean Plate will thus experience increased volcanic activity in the many volcanoes that lie on that island chain. The Caribbean Plate will lift, slightly, on its northern edge, while plunging greatly on its southern edge, being pushed down by the overriding S American Plate as it rolls. Of course magma will be roiling, as the pressure from the southern part of the Caribbean Plate being shoved down into the magma will force this magma to go somewhere. It will move in the direction of least resistance, which will be toward the north, and thus it will rush under all volcanoes currently in the Caribbean or in Central America. We have mentioned the tsunami those in this region can expect during the 7 of 10 roll, and large quakes those in the region can expect, but this activity is minor compared to what will occur during the pole shift itself. Those who live on islands in the Caribbean are advised to go elsewhere if they expect to survive what is coming.
ZetaTalk ™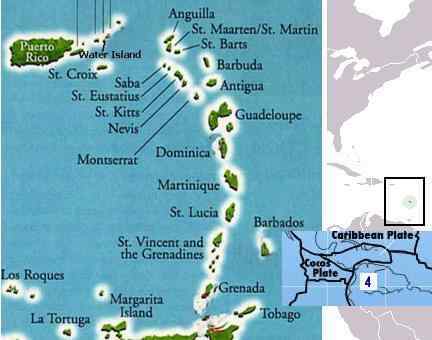 Note S American Roll commentary.
Note 7 of 10 Plate Movement commentary.
Note Caribbean 7 of 10 commentary.