Pixel Analysis of Red Persona with Cloud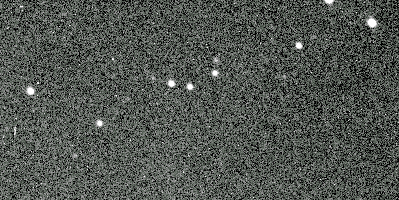 Taken from Sum Summary 0 to 10 plus original master dark same Sum as Brightness and Tail Analysis of PX White. I find no object on any DSS images at this location, certainly not of this nature. In general, this picture is suggestive of Planet X image that Pierre-Eric took with the large scope back in January.  A very diffuse object. This cannot be construed as noise or Cosmic Rays.  This looks like a duplicate image of Planet X White only much more diffused.
I see 2 different bright spots over 140%. Perhaps Planet X Red moved during the hour. The surrounding area on 257 comes in at 130% and 120%, more pronounced than 259. Planet X Red has remained relatively in one place this time. It seems to be steadier trailing Planet X White.  
Trail or Tail of Moons and whatever following drops down and to the right, with a similiar pattern of  pixel objects that stand out, when compared to the Planet X White tail and moons. Possible Moons are 130% over background for Red Table and 120% over background for White Table. Because of this pattern it leads me to believe Planet X Red is an identical image to Planet X white, not flipped. A question I had wondered about, regarding whether this was phenomena similiar to a Camera Obscura. It's not! When the "Red Light Bends", it must diffuse by some reflection, refraction or deflection effect.
In the past images Planet X Red has appeared brighter and larger than Planet X White, in this one with the diffusion the 2 main pixels are about 142% over background compared to Planet X White at 160% over background. But the area of light dispersal in Planet X Red is huge!
J.William Dell
110% over background        = 200
120% over background        = 217
130% over background        = 236
140% over background        = 254
Direction of Travel <<<<<<<<<<<<
Background from outer ring of pixels 15223 / 84 = 181 Background Average
| | | | | | | | | | | | | | | | | | | | | | | | |
| --- | --- | --- | --- | --- | --- | --- | --- | --- | --- | --- | --- | --- | --- | --- | --- | --- | --- | --- | --- | --- | --- | --- | --- |
| 180  | 186  | 153  | 177  | 130  | 178  | 194  | 165  | 132  | 157  | 166  | 200  | 184  | 209  | 185  | 167  | 195  | 181  | 196  | 179  | 212  | 162  | 175  | 173  |
| 197  | 165  | 184  | 181  | 189  | 176  | 160  | 185  | 147  | 175  | 182  | 180  | 193  | 181  | 196  | 186  | 166  | 168  | 206  | 183  | 213  | 150  | 163  | 214  |
| 172  | 189  | 164  | 179  | 209  | 169  | 149  | 188  | 176  | 158  | 180  | 151  | 176  | 189  | 192  | 192  | 193  | 179  | 188  | 191  | 149  | 190  | 192  | 175  |
| 190  | 150  | 204  | 168  | 167  | 191  | 171  | 167  | 228  | 177  | 193  | 156  | 210  | 181  | 176  | 152  | 216  | 187  | 175  | 185  | 163  | 218  | 172  | 161  |
| 200  | 152  | 181  | 169  | 183  | 183  | 166  | 152  | 167  | 167  | 179  | 164  | 173  | 153  | 197  | 169  | 208  | 169  | 202  | 212  | 197  | 180  | 174  | 169  |
| 180  | 178  | 214  | 127  | 186  | 202  | 216  | 172  | 203  | 196  | 171  | 177  | 194  | 189  | 188  | 177  | 184  | 179  | 163  | 212  | 180  | 190  | 195  | 179  |
| 154  | 170  | 194  | 157  | 194  | 164  | 202  | 208  | 192  | 227  | 238  | 217  | 202  | 217  | 206  | 162  | 187  | 212  | 200  | 207  | 200  | 208  | 200  | 174  |
| 202  | 183  | 130  | 194  | 210  | 167  | 192  | 170  | 179  | 214  | 228  | 211  | 191  | 218  | 196  | 176  | 156  | 175  | 195  | 190  | 173  | 207  | 180  | 200  |
| 206  | 191  | 184  | 203  | 197  | 171  | 185  | 204  | 205  | 197  | 223  | 218  | 184  | 233  | 179  | 210  | 187  | 185  | 199  | 149  | 183  | 190  | 204  | 202  |
| 150  | 193  | 177  | 220  | 191  | 196  | 179  | 215  | 191  | 236  | 205  | 246  | 227  | 247  | 259  | 233  | 184  | 158  | 196  | 190  | 192  | 144  | 190  | 228  |
| 166  | 162  | 181  | 207  | 186  | 217  | 223  | 219  | 230  | 244  | 257  | 246  | 195  | 227  | 230  | 206  | 242  | 218  | 211  | 184  | 165  | 192  | 207  | 188  |
| 164  | 175  | 185  | 180  | 205  | 223  | 229  | 203  | 233  | 211  | 240  | 226  | 224  | 220  | 222  | 199  | 170  | 180  | 189  | 175  | 158  | 196  | 174  | 176  |
| 186  | 185  | 156  | 232  | 185  | 220  | 217  | 199  | 208  | 209  | 207  | 222  | 231  | 244  | 168  | 168  | 207  | 197  | 175  | 181  | 167  | 197  | 197  | 195  |
| 161  | 157  | 178  | 216  | 178  | 221  | 185  | 209  | 191  | 230  | 235  | 244  | 224  | 196  | 214  | 225  | 177  | 180  | 178  | 222  | 175  | 189  | 195  | 193  |
| 180  | 186  | 147  | 212  | 201  | 197  | 192  | 238  | 229  | 190  | 210  | 222  | 224  | 198  | 182  | 187  | 220  | 180  | 193  | 206  | 174  | 226  | 183  | 215  |
| 151  | 168  | 171  | 167  | 197  | 184  | 185  | 211  | 232  | 213  | 220  | 170  | 185  | 198  | 178  | 191  | 214  | 194  | 155  | 182  | 195  | 196  | 193  | 192  |
| 138  | 221  | 210  | 170  | 196  | 182  | 206  | 200  | 181  | 195  | 184  | 212  | 161  | 187  | 173  | 241  | 165  | 174  | 200  | 181  | 171  | 183  | 193  | 163  |
| 197  | 161  | 173  | 163  | 207  | 151  | 213  | 170  | 231  | 164  | 169  | 187  | 196  | 187  | 158  | 186  | 179  | 223  | 145  | 193  | 203  | 161  | 213  | 194  |
| 195  | 176  | 190  | 178  | 211  | 151  | 186  | 162  | 204  | 197  | 167  | 155  | 208  | 213  | 209  | 150  | 200  | 206  | 234  | 163  | 241  | 189  | 234  | 241  |
| 191  | 187  | 199  | 166  | 175  | 176  | 172  | 187  | 160  | 226  | 208  | 149  | 177  | 170  | 168  | 198  | 188  | 207  | 186  | 148  | 182  | 182  | 182  | 155  |