New Madrid Sequence
---
Indeed, tearing of the St. Lawrence Seaway will occur during the New Madrid adjustment. Because the lurch of Mexico to the west actually intensifies the bowing of the N American continent, the Seaway tears open. This is actually various adjustments at weak points along the Seaway rather than the tearing apart into a larger inland bay that occurs during the pole shift itself. Niagara Falls will remain, but some of the inland locks will break. When the upper Mississippi region finds the land to its west slipping down and to the southwest, those parts north which were formerly firmly attached find they can spring northward, as the pressure from the bow had been inclining them to do. This allows the edge of the rip, at Duluth, MN, to tear further inland, with consequent rumpling in S Dakota and minor shifting of ground in all parts in between.
ZetaTalk ™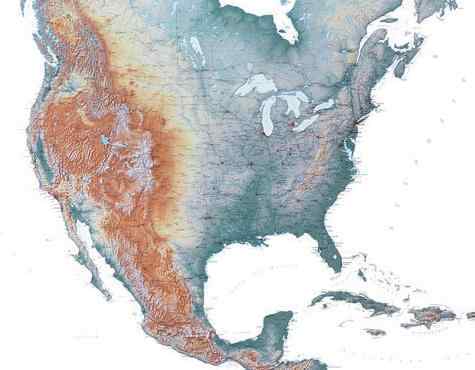 ---
There is general confusion about our predicted Earth changes. This is most often envisioned as happening all at once, suddenly, without warning. Where earthquakes and stretch zone accidents do seem to happen almost without warning, their approach is never that silent. The N American continent has been getting these warnings for some time, with increasing intensity. Quake swams in the New Madrid region and west of this spot have been occurring, and are on the increase. Sinkholes and shifting roadways are occurring from Pennsylvania through Tennessee and elsewhere. The center of the bow being formed by the N American continent, the San Diego area, has an epidemic of water main breaks, and the snapping rock inland from this point has affected a mine in Utah. None of this is officially ascribed to the New Madrid adjustment that is pending, though FEMA gives evidence of their nervous preparations for the disaster they know is pending.

Will the New Madrid just suddenly rip with our predicted magnitude 9 quake? Hardly. There will be a progression of quakes in the magnitude 4-5 range all along the New Madrid fault line, which runs up to the Great Lakes and thence along the seaway. The bow will become more stressed, cracking rock inland from San Diego all the way to the Mississippi, and forcing adjustments north and south of this point too, from the Aleutian Islands to the tip of Mexico. Sinkholes and crevasses will proliferate throughout the US in her stretch zones, in a swath that ranges from the New England states south to the tip of Florida and all points west. This is a large bow. Then quakes will increase to the point of being considered magnitude 6-7 along the long New Madrid fault line and its attendant splinters. The New Madrid adjustment will thus not sneak up on you, but will be well announced.
ZetaTalk ™ March 12, 2011
Note Great Lakes commentary.
Note Keweenawan Rift commentary.