Azores
---
At the point where 3 great plates collide, the tiny Azores Plate participates in any plate movement of the others. This is a stretch zone, but when one of the plates rides up or down, vs a vs the others, it would experience jolts. All this just confirms that plate movement is occurring, the Atlantic spreading, the Africa Plate rolling. More to come!
ZetaTalk ™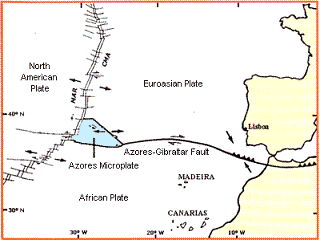 ---
The Azores are in a stretch region, so their tiny plate will not be pushed down. As the plate is lighter than the magma, it will continue to float throughout all trauma the region will experience. Tearing will occur during the 7 of 10, and during later phases of the Earth changes, but all will simply present an increasing stretch for the Azores. The Madeira islands likewise are not on a fault line but go for a ride on the high-riding African Plate. In all these matters, island safety involves surviving the sloshing of the oceans. It is often difficult to be 100 miles inland and 200 feet above sea level and to avoid tidal bore when mountain ravines are close to the coastline.
ZetaTalk ™ January 29, 2011
Note European Tsunami Source commentary.