Australia South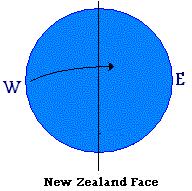 Reports from Australia show the Sun too far SOUTH. Below, Aussie#1 and Aussie#2 report.
Aussie#1

Sunset Dec 3: at 8:05 PM Azi 235° S/W and Alt 8°. [Note Skymap expects Azi 244° Alt 3°, Sunset SOUTH by 9°.]
Sunrise Dec 11: at 8:25 AM Azi 90° East Alt 35° [Skymap expects Azi 98° Alt 38°, is SOUTH by 8]
Sunset Dec 11: at 7:50 PM Azi 235° S/W Alt 15-18° [Skymap expects Azi 246° Alt 8°, is SOUTH by 11° and high, late]
Midday Dec 12: at 1:10 PM Azi 340-345° N/W Alt 85-90° almost overhead - seemed way to high. [Skymap expects Azi 315° Alt 70°, is too far SOUTH by 25° and too HIGH by 15-20°!]
Sunset Dec 12: at 7:30 PM Azi 235-238° S/W Alt 18-20°. [Skymap Azi 249° Alt 11°, SOUTH by 11° and high, late by 7° !]

Aussie#2

Sunset Dec 12: At 7:45 PM last evening I marked the sun's shadow on a wall. This evening at 7:45 PM I marked the sun's shadow. This evening's shadow was one inch to the right of yesterdays, suggesting the sun is moving NORTH. Also, at 8:00 PM when I last viewed the setting Sun and when it was 10° off the horizon, it visually appeared as though it was going to set 5-7° further NORTH. [Note: Aussie#2 is reporting relative to position day to day, not in Azimuth. Daily variations, at times extreme, are noted elsewhere too.]

Dec 22: The rising Sun appeared stalled for several days before Dec 21 and on Dec 22 appeared to ´inch´ slightly south. The setting Sun up until Dec 21 appeared to be ´inching´ north, but on Dec 22 it seemed to ´jump´ and set 2.5 degrees further south from the previous day´s sunset. These arel naked-eye observations and hand-span measurements.
Dec 25: This Saturday morning the 25 Dec I couldn't get my 6:15 AM sunrise shadow in a clear blue sky. The damn thing seemed south! (I should add I cannot get sunrise shadows on my verandah where I have my shadow-chart any earlier than 6:15 AM for I have the Ranges in the east and trees that restrict the Sun's rays). Anyhow, I took my 1st AM reading at 6:30, then another at 6:45. Both were to the right of previous markings suggesting the Sun is moving southward.