WATERWORLDS, AND OTHER ALIEN HABITATS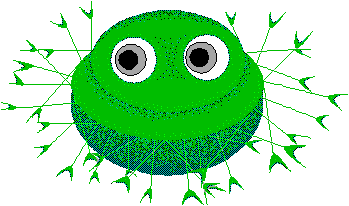 Would the Zetas care to answer more questions about the waterworld that many of us are scheduled to reincarnate in?
Does this waterworld have "technology"? Does it have a crystal or magnetic power sources equivalent to electricity? Does it have a "civilization" as we would know it - with a history, laws, art, governments, music, architecture, and organized armies? Are the depths of the oceans lit with lights or does everyone live in a dark hole?
Can they give us a more comprehensive picture of what that world is going to be like?

Before we have the Zetas address this, I'd like to give a bit of background on life on other worlds.
We on Earth tend to think of aliens as hominoid, like ourselves but with some slight difference,
But this is hardly the reality out there in the Universe, according to the Zetas.
The overall percentages, then, are
- 1 / 1,000 planets that can sustain life.
- 1 / 2,500 life bearing planets that evolve intelligent species.
- Of these, 75% are water babies, 15% are reptilian, 2.5 % are hominoid, 7.5 are bird like, with an infinitesimal percentage insect types.

Not all worlds are habitable,
but many that we, on Earth, have assumed incapable of sustaining life do in fact sustain life,
per the Zetas.
I have been given what is called a life form orientation, as a contactee,
in preparation for my role as a communicator, being in the media and relaying this information.
The first lineup was a lineup of hominoids, not too much of a shock.
Here's what I recorded as a result of that lineup:

Greek God
Greek God was presented in the lineup of hominoids. He was an example of the 8 foot tall giants that live on Planet X, and came to Earth to mine for Gold when their planet was passing through. He made Arnold Schwartzeneger look like a 97 pound weakling. He was wearing a Roman legionnaire's outfit and was attractively proportioned. What a hunk! My comment to him was, "No wonder they thought you were gods."

Chicken Man
Chicken Man was presented in the lineup of hominoids. He looked just like a flesh-colored chicken without feathers, but upon close examination I saw there were toes on the feet and fingers on the end of wing-like arms. There was no beak, just a pointed face. When I asked what his planet was like I was given a telepathic view of a bleak rocky place. I was told this was a female who was hugging and protective of the next hominoid, a male.

Tiny Man
Tiny Man was presented in the lineup of hominoids. He stood about a foot tall, and was flesh colored with a rounded head and short limbs. He seemed terribly shy, and when spoken to would titter and look at the floor. Chicken Man did all the talking.

Horned Toad Man
Horned Toad Man was presented in the lineup of hominoids. He was less than 4 foot tall and wore clothing. His skin was covered by large humped plates similar in appearance to the top of a turtle shell, but with more flexibility. When asked, he explained that his home planet was a dry, rocky place. There were two of these, one smaller than the other, but I failed to ask if they were from different planets or were different sexes.

Broom Stick Man
Broom Stick Man is the very tall and skinny alien from Close Encounters, the one with a small thin head. He appeared to be in charge of presenting the hominoid lineup. He seemed responsible and sensitive to the varying discomforts and expectations of the group.

Little Green Man
Little Green Man was presented in the lineup of hominoids. He was less than 4 foot tall, had a round green face but thin body, and had splayed fingers from a small round hand. He wore a plain blue outfit.

Slinky Man
Slinky Man was presented in the lineup of hominoids. He was short and appeared to have no neck, wrists, or ankles - all was one round tubular shape like connected slinkies. He wore an outfit with a high collar and his hair was clumped and still, black, standing straight up along the back of the head in peaks. I asked about his home planet but received for an answer this movement. His right leg stretched out to twice its length and landed to the side, then retracted and came back. He stretched like a slinky, without sign of bones inside. Persevering, I next got the following motion. His head rose up on a stretching neck 2 feet above the shoulders. His neck didn't get thin, all just rose up like a slinky.

Broom Stick Man explained telepathically that I had offended Slinky Man, because I hadn't bowed before talking to him. I bowed deeply from the waist and begged his forgiveness, and got warm, happy vibes from Slinky Man telepathically. I never did get my question answered. I asked the Zetas about him afterwards, and they explained this race is from a 3rd Density planet, not mature as our planet is not mature. Where we are violent, they get into a lot of posturing and political chits. The Zetas said "Very tiring."

Swamp Creature
Swamp Creature was presented later, after the presentations of hominoids, where the presentations were moving to other variations of intelligent creatures. He looked like the Creature from the Black Lagoon except that he was green, not black. A gentle giant, in and out of the water.

Then we moved on to later presentation, getting progressively more shocking:

Vampire Man
Vampire Man looked like a hominoid flea. He stood 4 foot high with stubby little legs and arms and gray leathery skin. The outstanding feature was 2 long, gray tusks coming down from his face about 4 inches apart. My understanding was that this was the equivalent of our vultures, in that it eats the dead by sucking fluids from a corpse. He seemed negative to me in that he wanted to intimidate, but like most bullies backed away when really confronted. I grabbed a tusk and flipped him onto his back. Not being agile, it took him some minutes to right himself, his stubby arms and legs flailing.

Dino Man
Dino Man looked like a small Tyrannosaurus Rex, but was no taller than a large man. He was dark green, with a ridge down his back, and stood erect while leaning back on a large fat tail used for balance. The end of his tail had a couple of pointed yellow barbs, which looked fluid filled and puffy. The mouth was lined with many teeth. He was not a telepathic conversationalist except to insist that I was to obey him, a command he repeated several times. When this was refused he opened his mouth to show all his teeth, leaning toward me. When he found he could not intimidate me, he lost interest and turned his back.

Octopus Man
Octopus Man had a body and tentacles like an octopus. He was chocolate brown on the outside and cream colored on the underside of the tentacles. I was delighted to find him very chatty. I asked what his home planet was like and was telepathically shown a planet of water with only an occasional rock sticking out - very windy above the water line and inhospitable where the water was warm and inviting. We shook hands at the end, hand to tentacle. He had a special pink tentacle like a long earthworm that wrapped around my wrist, to improve communications it seemed. I had no problem with that. It's not the life form, it's the vibes coming from the soul within that matters.

Bean Bag Man
Introduction to this intelligent alien caused me to faint for the first time in my life. The Zetas dragged me to my feet and the introduction proceeded. Bean Bag Man has 2 eyes in a broad round head, and a single mouth. Asked what his home planet was like, I received a telepathic explanation of a green hothouse kind of place. Bean Bag Man looked like a round green blob with no bones. When I asked what he ate, I got a telepathic view of a bug like a beetle being crushed. I gave Bean Bag Man a telepathic view and explanation of our custom of shaking hands, and he extended one of about fifty little claws that fringed around his waist. After a moments hesitation, and I took and shook one of the claws.

I asked about technology, and didn't get anything back. He did not come for this visit on his own power. I asked about housing and got a telepathic scene of Bean Bag Man sort of flowing along the ground toward a sheltered place along an embankment. Saying goodby, Bean Bag Man moved away from me, flowing along by heaving parts of his body forward or backward along the ground. Bean Bag Man was all green, except for his bottom where he abutted the ground, and this was black. A pleasant fellow, meaning me no harm.

Cockroach Man
Cockroach Man emerged from a blue/green pool, where he had been floating face down. The pool appeared to be thick with algae. His back was smooth and rounded like a turtle shell, with no sign of wings, and he was gray all over. He stood erect on a rear set of legs, looking like a giant cockroach on the front with several sets of leg/arms ending in two toe/fingers and with a couple of round eyes at the head. He was not particularly communicative.

Amoebae Man
Amoebae Man was light green and without form or distinction. He had no markings. He was on the floor, and flowed parts of itself around my ankles so communication could occur. A picture of a rocky world where life only occurs in the crevices was relayed to me. Amoebae man had to lay low to survive.
The Zetas explained to me why many in the lineup seemed about the same size and shape.
It took me some time to come to grips with Cockroach man, as I did not want to remember.
All those many legs, wagging at me.
Where I had telepathic communication with all the other life forms I was presented with,
nothing seemed to be passing between us.
I presumed this was because our DNA was too different, preventing a shared communication, brain wave to brain wave.
The Zetas state that very few worlds have intelligent insects as the evolved intelligent species, for a reason.
Where reptilians have the repulation of being cold blooded and cruel,
the souls incarnating into reptilian life forms are as likely to be empathetic and kind as humans.
Cold blooded does not necessarily mean cold hearted!
The Praying Mantis, considered by many to be an insect looking alien, is in fact a hominoid.
Nor are the Cat People, who are also hominoids.
Hominoids come in many varieties.
A number of hominoids visiting Earth meet look remarkably human, however.
The Nordics, Pleiadeans, Men-in-Black, and visitors from Orion among them.
Where they look human, they are not among us, living on Earth, for a number of reasons.
Where they don't live among us, the Men-in-Black do live on Earth as our neighbors,
as does Bigfoot and a reptilian species that lives in subterranean cavities.
These are not alien visitors form another world, but transplants from other worlds.
Creatures that look and act like intelligent alien species, but are no more intelligent than dogs or cattle, can also be aliens.
Why is this so?
As our Earth is a Kindergarden schoolhouse for emerging souls,
where we learn to either care for each other empathetically or remain self focused,
the battle for Good or Evil, essentially,
our alien contacts are attempting to convince us it one of these directions.

Where aliens advising the good path want to increase empathy,
aliens advising the bad path want to increase fear and terror, as this increases self focus.
Just yell 'FIRE' in a crowded theatre and see how many people get trammeled.
Everyone thinks for themselves.
So these aliens, wanting their number to increase, wanting new converts, want to increase fear and terror among humans.

By the rules, during this counseling, aliens cannot touch people, cannot harm them.
So how do they accomplish their goals?

Vampires, dragons, mothman, and the recent Chupacabras, are not intelligent creatures from other worlds, they are like dog packs, and are used to terrify humans.
By the rules on alien counseling, this is allowed, as it is not much different than a human encountering a bear or a wolf pack.
But the rules ARE different, as these dog packs can only affect humans if the human submits to this intimidation,
gives up, due to terror,
as then the dog packs can savage and eat them,
just as our own dogs packs on Earth can savage people.

But if the human stands firm and does not give into fear and terror,
then these alien dog packs are held back and cannot hurt the human,
as these alien dogs are on a type of leash.

If this line were not drawn, then those visiting Earth from the essential prison colonies, where the self-focused are forced to live with each other, would flood the Earth with these dog packs from elsewhere.
As it is, since they must keep their dogs on a leash, there are limited dog packs here, as there are a limited number of aliens from the prison colonies visiting here.

In the words of the Zetas:
As with dog packs, they are allowed to encounter, terrify, and even kill humans should the humans basically give up and submit. Thus, there are stories of dragons consuming virgins, and vampires biting to death victims virtually drained of blood.

So in that the vast majority of intelligent species in the Universe are NOT hominoid,
and given that Earth is a very busy place right now, during its Awakening to alien presence,
do contactees invariably get contacted by hominoids, or are there some surprises?
The dominant species on a planet might be something that humans would consider a meal,
or vise versa, something that humans would consider a predator.
This type of conflict, for those species that are predators, eating other life,
Is a conflict that ultimately encourages empathy.

Not unlike the decisions of those on Earth who have become vegetarians.
During the pole shift, when 90% of the Earth's population is expected to die either as a result of the shift itself or shortly afterwards due to disease or starvation,
there will be many souls ready to reincarnate into new bodies.
Because of the Earth has been scheduled to be in a Transformation at this time,
when the Earth can become a home for those strongly in the Service to Other, those who are empathetic and genuinely practicing the Golden Rule,
most must go elsewhere to reincarnate.
- those spirit strongly empathic will be allowed to reincarnate on Earth in a hominoid form
- those so self-centered they virtually think only of themselves will be removed to various prison colony planets
- those who have not matured spiritually enough to have made a decision will reincarnate in a waterworld.
So where does that leave us, in answering Roger's question about more specifics about the future Waterworld that most humans on Earth will find themselves reincarnating into?
I quote, from NEW ZetaTalk, written to address this question.